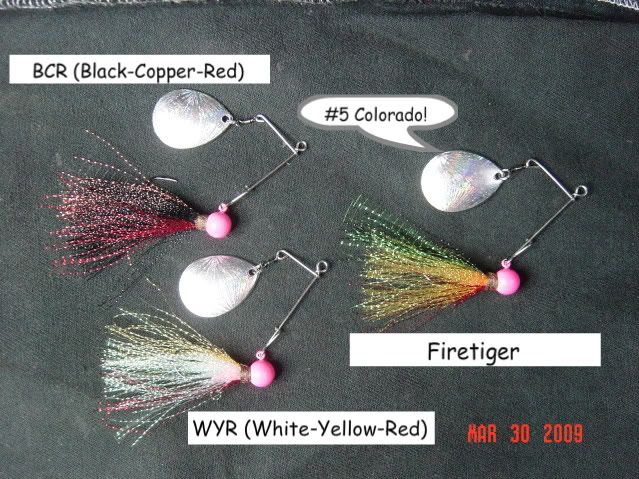 For sale:

1/4
ounce spinnerbaits available in three colors.

BCR - Black/Copper/red
WYR - White/Yellow/Red
Firetiger

Components:
-The 1/4 ounce jig has a 1/0 ultrasharp tempered hook.
-Durable, extremely reflective synthetic fibers make up the skirt material.
- Stainless steel hardwire frame can handle big fish.
- Ken craft #5 colorado hologram blade produces strong, fish attracting vibration and flash plus gives the skirt lifelike appeal.
- Smooth turning crane swivel and micro splitring( less snagging).


This is the size i use in Subic to catch pargo, groupers, snappers and other reef fish. I've also caught threadfins (manila bay) and apahap (island cove) with this lure.
Great for casting over shallow reefs, mangroves and river mouths.
Made for largemouth bass both shallow and deep.
It's a great lure for Island Cove predators and other bathtubs.
Good for large (1 kilo+) dalag when they're deep and not hugging the shallows.

I make each spinnerbait by hand and test their swim in my fishtank. These lures are designed to catch fish not fishermen.

You can trim the skirt and add a trailer or tail.



Php 140 each

Please specify color.
Txt me at 09272610702